Google Trends can be a powerful tool to understand what your audience is most interested in. Google Trends can be used by content marketers to search keywords. It can also be used by performance marketers for campaign planning. Social media marketers can also use it to keep up with trends.
You may find it tedious and time-consuming to keep track of search terms and hot topics in Google Trends.
This is why I will share with you an automated Google Trends dashboard from Google Data Studio. This dashboard will make it easy for you to use:
Monitor the performance of the relevant topics and identify potential business opportunities. Share the results with your clients or colleagues
Let's just get to it.
Google Trends Dashboard for Google Data Studio

It's important to note that Google Trends doesn't give you an exact number of searches. Instead, the results are displayed on a scale of 0 to 100. 100 represents the location with the highest number of searches. 0 indicates that there is not enough data or that the search interest is too low compared to other top locations.
Two pages make up the Google Trends dashboard:
Country breakdown: Shows search terms by country.Time trends: Displays search terms over a certain period.
Let's take a closer view at each page and see how we can use Google Trends to analyze our data.
Table of Contents

You can monitor interest in a search term from different locations by using the 'country breakdown page.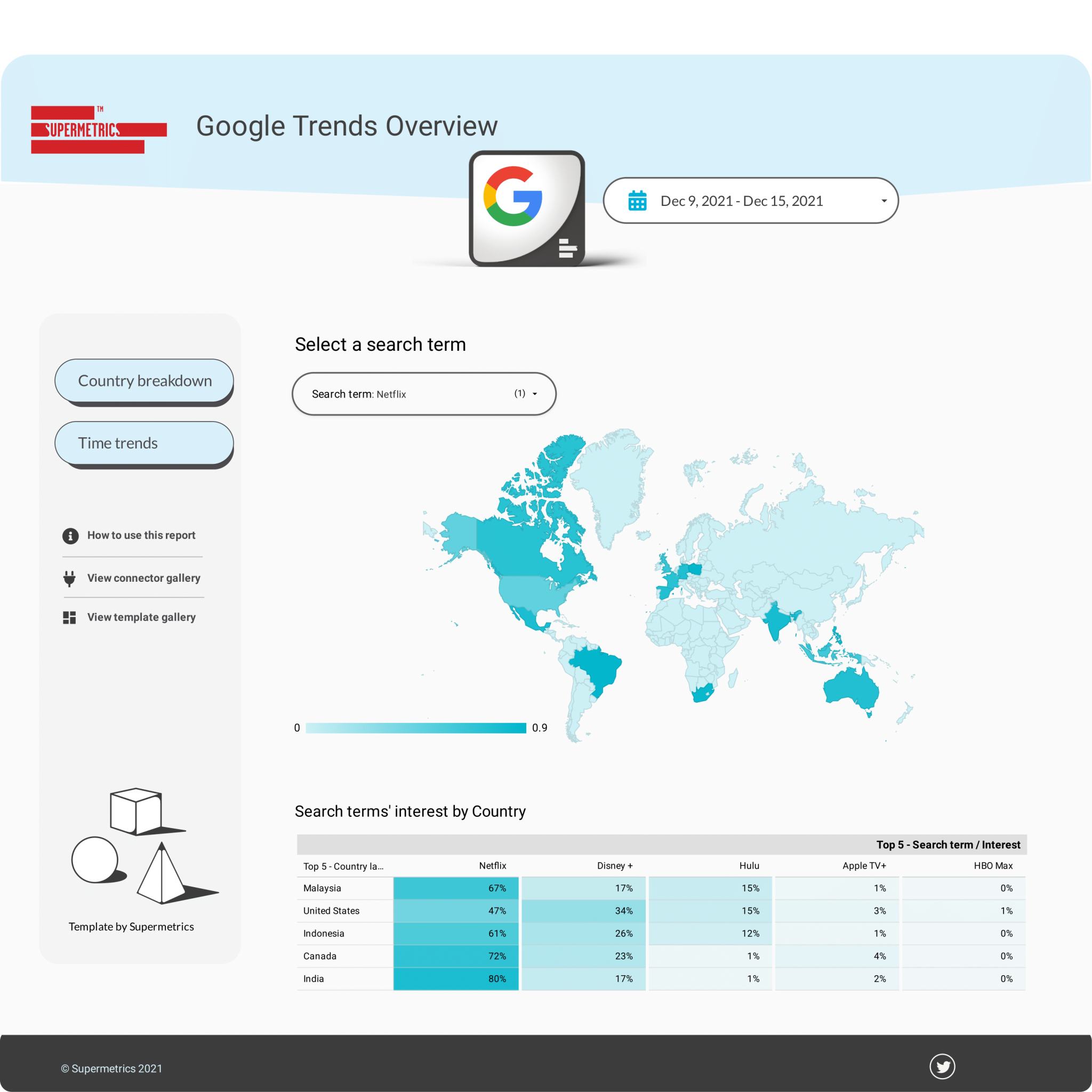 "Interest by Region" shows you where your search term is most popular over a given period.
You have the option to filter your search terms by subregions or regions. This will impact the data you report. In this example, I selected 'worldwide' for my location and then broke down my search terms by region. If I want to see Netflix's popularity within certain cities in the US I will need to select 'the US" as my location in order to configure the report. I'll show how I do this later.
You can monitor brand awareness in key markets using the map. Let's assume you are the Brand Manager at Netflix. You can add Netflix on the map to see which areas are most popular. You can see that people are interested in Netflix in Canada and the US, Brazil, France or India.
To see how your brand has grown in popularity, you can filter the map by selecting different periods.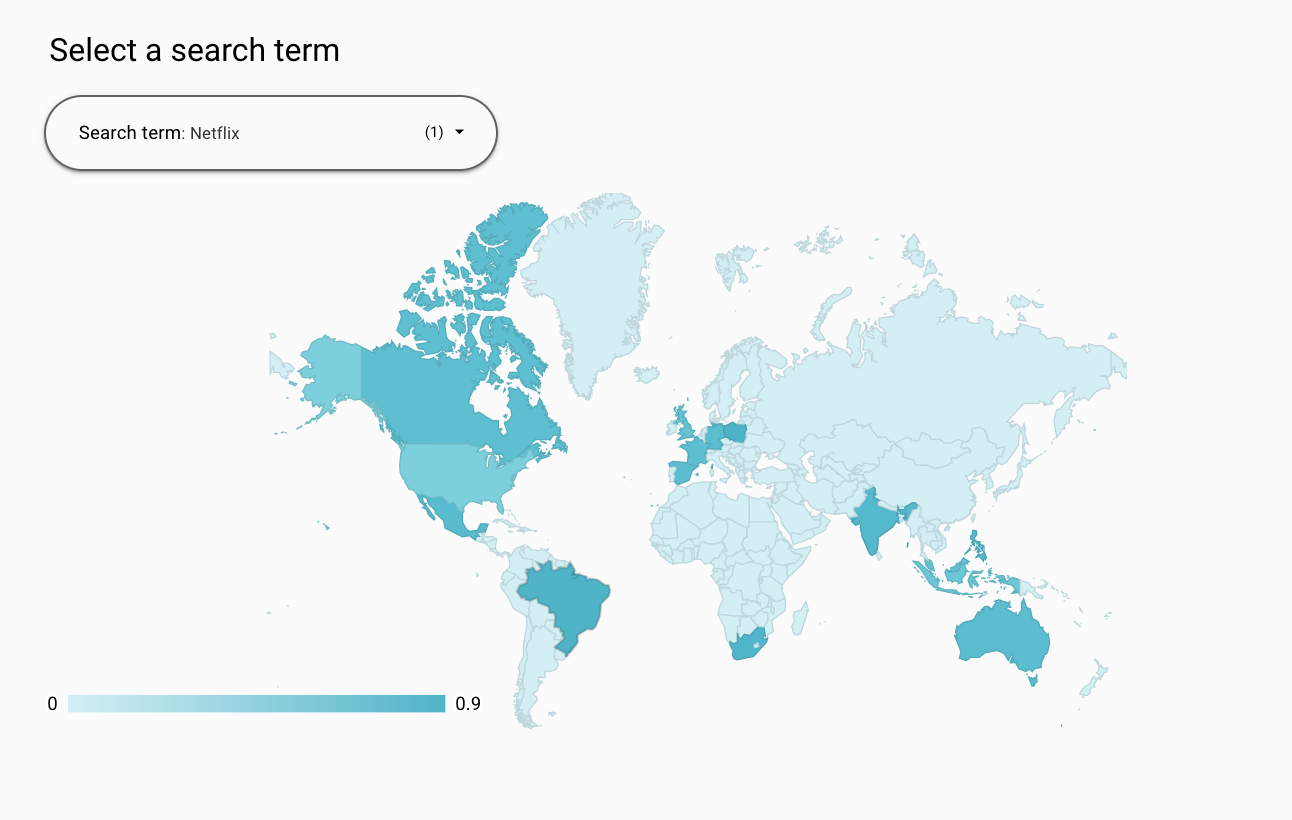 Benchmark competitors is another useful feature you can find on this page. It is easy to see the performance of your competitors in different locations.
In the table below, I show you how five streaming services are viewed by viewers: Netflix, Disney+ and Apple TV+.

You can run more brand awareness campaigns if your popularity in your key market is lower than that of your competitor.
You might also want to consider a market where your competitors are less popular than you and enter it to become the market leader.
Time trends

You can monitor and compare how popular search terms and topics have become over time with the time trends report.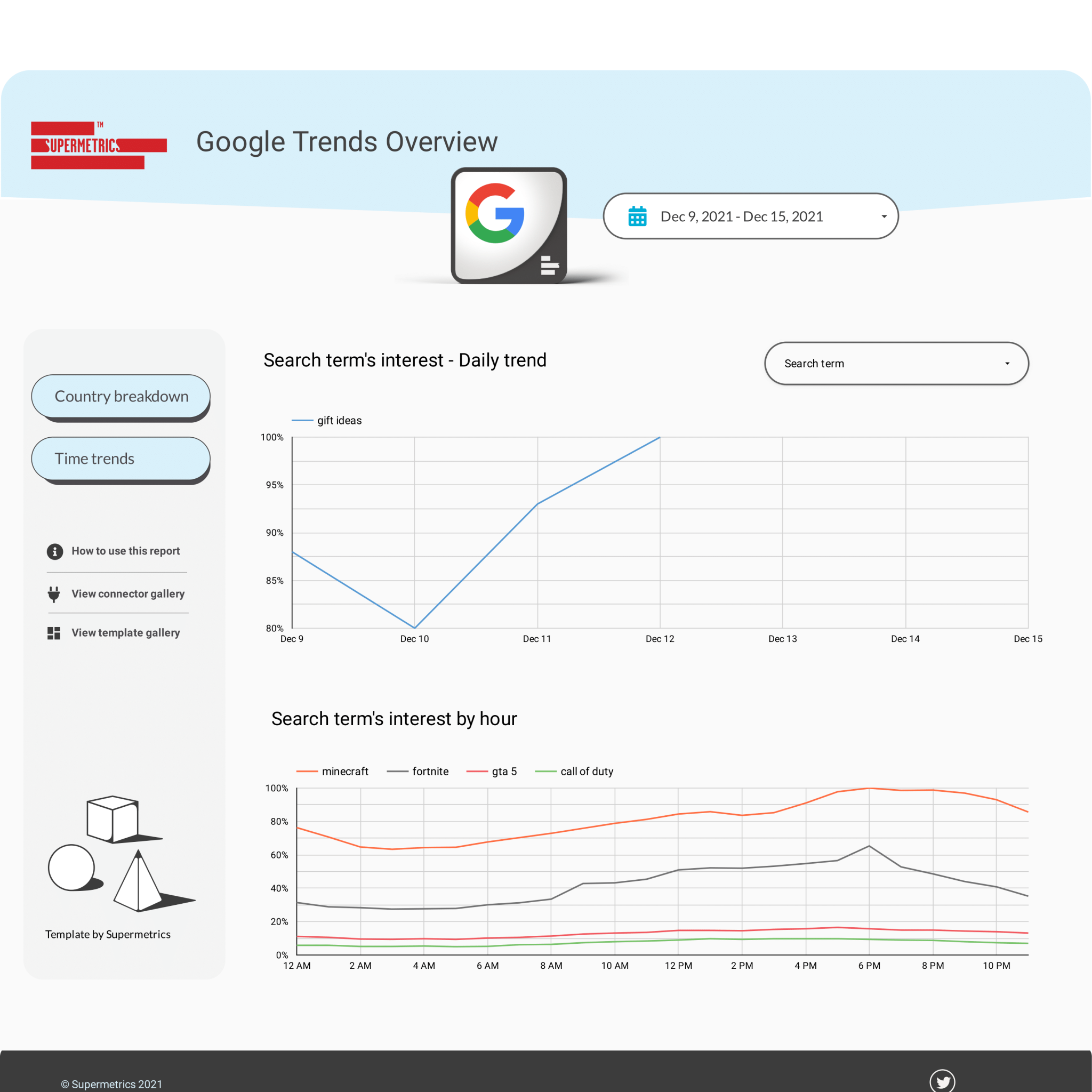 Seasonality is a huge opportunity for many marketers, especially ecommerce. It's crucial to plan ahead and make the most of holidays.
Imagine that you are selling eco-friendly products and that you want to increase sales during the festive season.
To see when is the best time to launch your campaign, you can add the search term "gift ideas" to your report (as shown in the example below). You can see that there is a spike in October. This is why you might want to get started on your campaigns in order to capture the early traffic.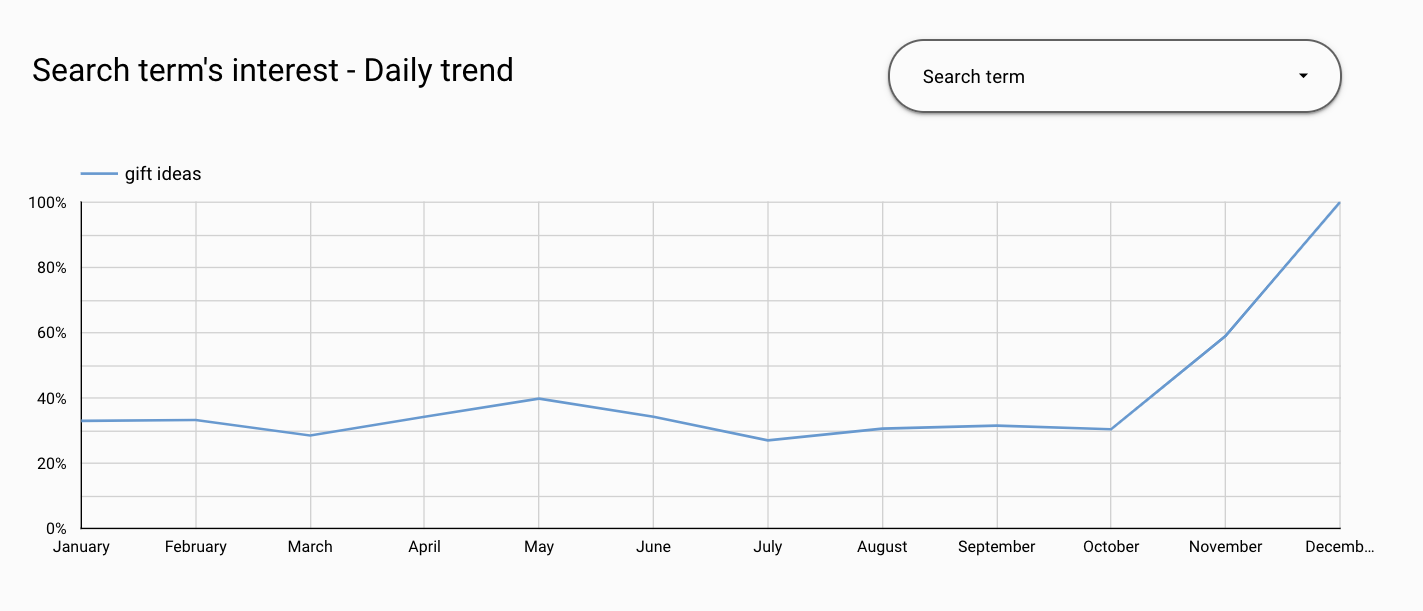 You can also monitor the popularity of specific topics and search terms per hour. In the table below, I compare the interest in popular video games such as Fortnite, Minecraft, GTA 5, Call of Duty, and GTA 5.

When you want to monitor a trend in real time, the 'interest per hour' report is a great tool. To see the interest of your audience in news, add your brand keyword to the report if you have just published a product or feature.
How to start with the Google Trends overview template

Open the template to get started. Click the link in the upper left corner to open the template.
You will need to add Google Trends to your template to ensure it pulls all of the data.
Click the drop-down menu and then choose 'Create a new data source'.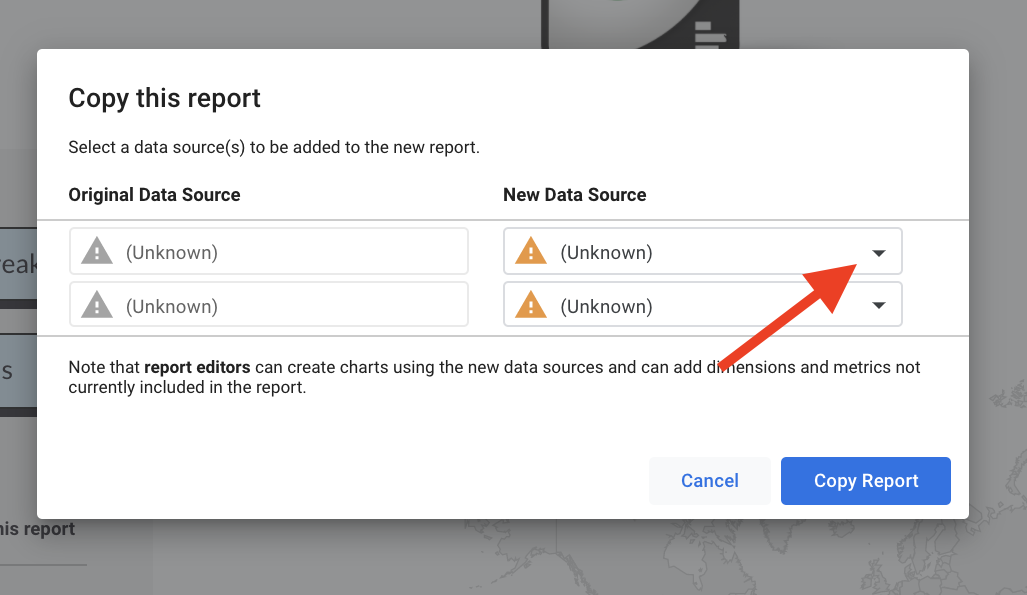 Google will direct to the connector gallery. Search for the connector 'Google Trends by Supermetrics.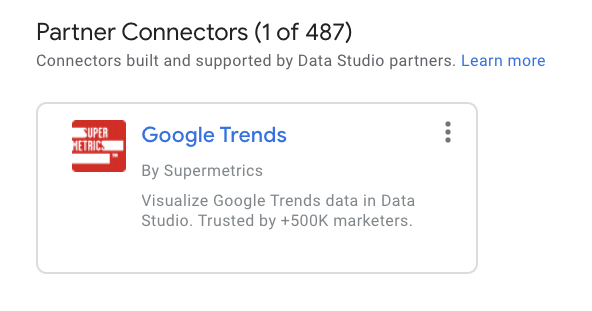 Next, authorize your Google account.
Your 14-day trial of Supermetrics Data Studio will begin automatically when you connect the data source.
Selecting the query type (or the report type) is necessary to create the template. There are seven types of query:
Interest over time: This shows you how popular certain topics or search terms have become over a specified period of time. The report can be populated with up to 30 keywords. Interest by hour: displays the popularity of specific topics or search terms in real time. Similar to the interest over time report, you can add as many as 30 keywords to this report. Interest by region: allows you to monitor the interests of up to five terms and topics in a selected location. Track at the country or city level. Similar topics: Shows the related topics to the search terms you have selected. Topic suggestions: Identifies the most relevant topics based upon your search terms.
This template will require you to connect two reports: interest per hour and interest per region.
The template can be customized so you can add reports or get the data you need.
Let me now show you how to configure report types.
Let's begin with the report on 'interest by regional'. Select 'interest in region' from the drop-down menu and then click Next'.
Fill in these fields to complete your query:
Search term
After you are done click "Connect" and then "Add to Report".
Continue adding the second report. Select 'Create a new data source' from the drop-down menu.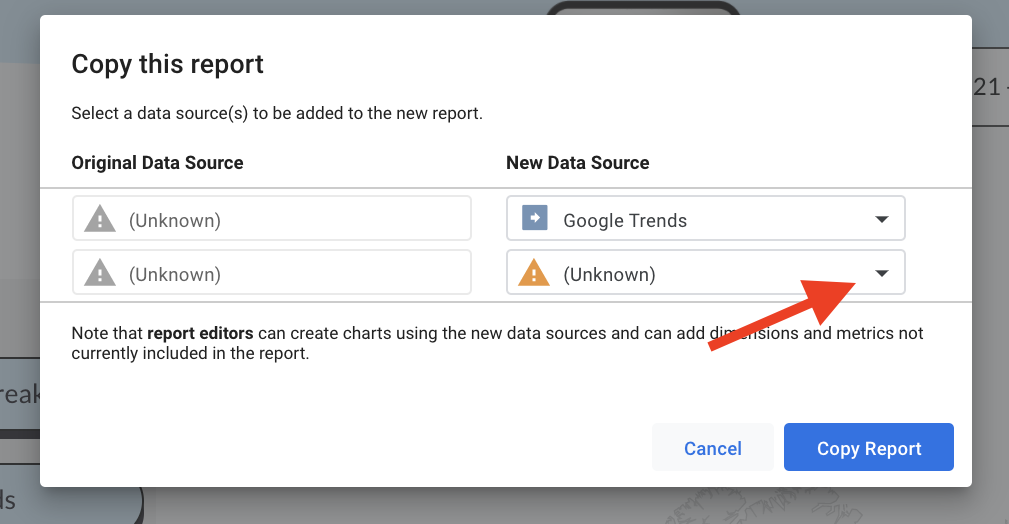 Similar to the above, search for the "Google Trends by Supermetrics" connector and then configure the next report (e.g., the "interest by hour" report). You can complete the query by entering these fields:
Search termSelect countrySearch typeCategoryTime zone
Once you are satisfied with the query click 'Connect" and 'Add To Report'.
Click on "Copy report" after that.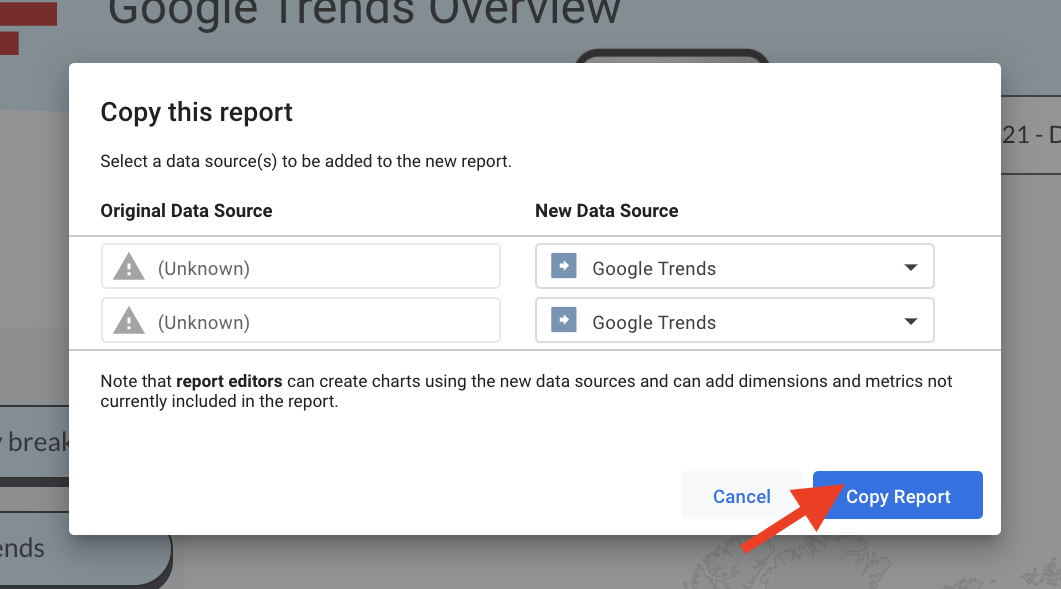 That's all. You can now use your Google Trends report. You can share your Google Trends report with clients and colleagues by clicking 'Share', then enter their email addresses.
More to you

This is just the beginning. You now have access the 'Supermetrics for Data Studio, so feel free to experiment and create insightful reports.
You can, for example, combine your paid advertising data with Google Trends data in order to find the best keywords. You can also use Google Search Console data for content planning.
Let me know if you would like to share your Supermetrics use case or report via LinkedIn.
Have a great day!