Marketing, like most communication, relies on words. And words have the power to convince, convert and inspire action. If you're looking for words that will sell more products, or get more social media followers, you need to know about power words.
You might have heard of power words before. These are words or phrases that elicit a response or action in us. They speak to our base desires, and have the ability to convince us to act or do specific things.
Understanding how power words work, and how they can impact the psychology of marketing, can really level up your digital marketing game.
Now, this article isn't about lists of power words, which you can easily find online. But we will highlight some great examples and explanations of how power words work for advertising and marketing. Especially with your Google or Facebook Ads.
How words make us react
We know how words have the power to affect us. In fact, the power of words is such that a single word can change how we feel.
Certain words trigger responses in our brains, releasing chemicals and causing a natural emotional reaction. Research has even found that the written word has more power to influence a response than the spoken word.
Written language has shaped cultures, laws and thought for centuries. Think of the power of religious scripture to inspire devotion, or the ideas expressed in literature. These are the words that have survived centuries and continue to exert an influence on the world.
OK, yes, I've gone a bit deep there. 
But the bottom line is, words are powerful. And written words have the ability to change how we think on a cultural level. And you, the modern digital marketer, can change how your customers think and inspire a reaction with just the words you choose.
Pretty cool huh?
So, how can you use these power words?
Power words for different responses
Another thing to get your head around is that power words fall under different categories, depending on the response you want to promote.
For example, there are power words which tap into our human emotions such as:
CuriosityGreedSafety and securityLust and desire (not necessarily related to sex!)VanityLazinessFear and anger
Although some of these might seem like negative emotions, anger for example, the words associated with these emotions can inspire action and be particularly powerful.
As a marketer, your job is not just to sell products, but to generate curiosity in your brand, build trust and establish a following. And, of course, for that to result in more paying customers.
So all of these categories can be useful at some point in the customer journey.
We'll have a quick look at a small selection of power words which fall under these headings.
short list of power words for marketing
The actual list of words that are considered power words is pretty huge. Run a quick search and you'll spot lists of thousands of power words. But we'll keep it super simple here, highlighting some of the best words for persuasive marketing content and headlines.
Defining what makes a power word is tricky. When it comes to marketing, you're looking for words which imply a personal or financial benefit, scarcity, or suggest an action.
Some examples of power words for marketing include:
BargainBetterBestLast ChanceLimitedCheapDiscountGiveawayNowDon't Miss OutValueSaveSaleProfitSavingsImprovedYouYour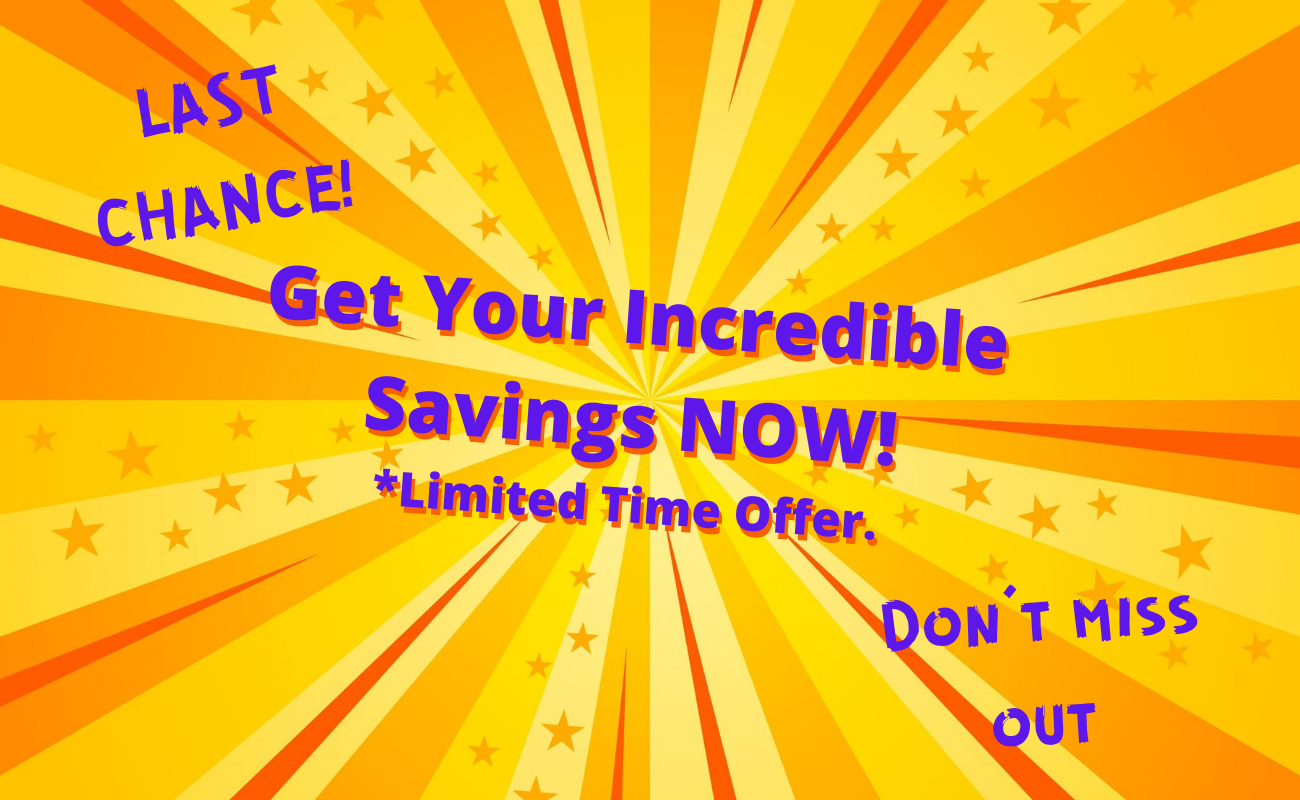 You might also notice that some of these are more than one word. Some might also seem a bit cliche. Do we really still react to 'Buy Now' or 'Don't Miss Out'? Even with all our exposure to marketing and online ads?
Actually, yes we do.
As mentioned before, these tend to be words that trigger a basic urge in us. We all want to save money, get the best deal possible, and avoid missing out on a great offer.
To summarise these under emotional headings, let's look at some example power word lists by emotions:
Greed power words
ProfitProfitableSavingsSave moneyGet moreWinMoney offSaleLowest priceCheapBargainGiveaway
Curiosity power words
DiscoverBe the firstUncoverInsider knowledgeBy invitationExclusiveLearnJoinHiddenSecretMysteriousUniquePricelessShocking
Vanity & exclusive power words
YouSuccessAwesomePrestigeExclusiveMembers onlyBeautifulLegendaryInfluentialCommandingAttractiveCleverPotentialDazzling
Time sensitive power words
LimitedLast chanceNowTodayFinal Don't miss outSale ends soonWhile it lastsHurryGet it firstBeforeToo late
Safety and security power words
ProtectSecureDefendInvestmentLong termGuardBlockNo riskTrustTrustedSafeGuaranteeTestedProven
Lust and desire power words
ThrillingNaughtyMouthwateringSexyForbiddenNaughtyTeaseWildPassionatePleasurableCravingExotic
Lazy power words
EasyQuick resultsEffortlessSimpleNo effortNo problemEfficientStraightforwardAccessibleFreeInstantSave time
nger & fear power words
ScamStolenDesperateMiss outWorthlessAbuseWorstDangerThreatInferiorLost opportunityDeceitWeakUseless
uthority power words
GenuineTrustworthyProvenScientificAgreeFoolproofConfirmedGuaranteedApprovedRespectedDecisionDataTrueVerified
pplying power words to your marketing
You might have noticed that many of the power words are pretty common. You might even say some of them are pretty unremarkable and are simply the sort of language sales people might use.
But it's not just the words, but how and where you use them.
From email headings and blog titles, to Facebook or Google Ads copy, power words can be applied in different ways.
For example, in an email header, you might want to hook people in with an exclusive offer, or pique their curiosity with a tantalising title.
With a PPC ad, you want to get people to click, so it's often appealing to those looking for either the most reliable option, the best price or to get the deal before it runs out.
You don't need to worry about learning power words. After all, there are loads of them. But understanding how these words affect us, and how a well placed power word can be persuasive is a useful marketing skill.
It also ties into NLP, or neuro-linguistic programming. This is a method whereby using persuasive language can be used to remove objections and to get the potential buyer to think positively around making a decision. 
Most sales people understand at least the basics of NLP, and most will also use power words without realising.
Call To Action (CTA)
One of the most common ways you'll see a power word in action is within a call to action. 
BUY NOW! 
SAVE 50% TODAY
GET YOURS BEFORE THEY'RE GONE
These are the sort of instances where using a power word can help to trigger those impulse purchases. In fact, if you're not using a power word in your CTA, you're probably doing it wrong.
d copy
By definition, ad copy tends to be short and sweet and packed full of persuasive language. These ads need to grab our attention and give us a reason to click within a fraction of a second.
Whatever the benefits are, you need to squeeze them into just a few characters.
Look at the ads below.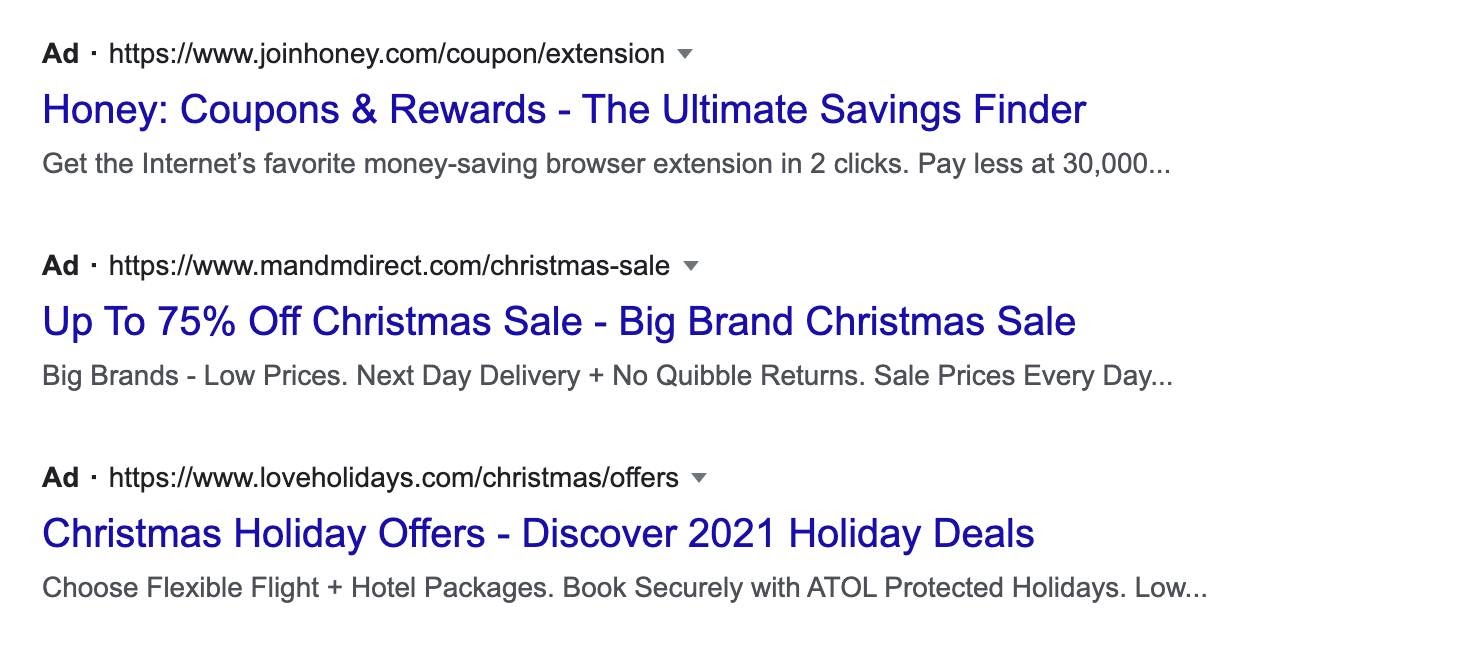 The top ad has words like 'Rewards, 'Ultimate Savings' and 'Pay Less'. 
In the middle, we've got a big '75% Off', 'Low Prices' and multiple uses of the word 'Sale'.
The ad below has words such as 'Flexible', 'Secure' and 'Protected'.
There are other factors that can help your Google Ads success, such as ad extensions to maximise your copy real estate. And writing copy goes beyond just using power words in your ads.
Check out our full guide to writing copy for Google Ads.
Landing page
Getting people to click on your ad is one thing. But getting them to convert to full paying customers is another. 
Again there is a whole art and science to ensuring maximum conversions once people visit your site. Landing pages are perfect as they can be used to create a focus on specific products or services, and you can include a powerful CTA to close the deal.
Careful placement of power words can also be very effective. Of course, it's the old trick of using sales focused language without being overbearingly salesy.
Check out our full guide to search engine marketing for more tips.
Other marketing channels
Modern marketing is obviously a multi-headed beast, so chances are you're also running ads on social media, delivering an email newsletter and maybe even using automated chat bots. 
Well placed power words can help to engage customers, convince people of your authority or trusted status, or simply get people to click or buy.
In conclusion…
We all use power words, every day. They are simply words that have the ability to influence the way we think or perceive something.
When it comes to marketing, our use of language, especially in persuasion, is important to our success. We want the best possible conversions, the most clicks, and top level engagement. 
As internet users, we see a phenomenal amount of content each day. From short form ads, to blogs and magazine articles. Getting people's attention is one thing, but getting them to act is another.
Power words can be your secret weapon. They can both capture our attention, keep us focused and make us want to act BEFORE IT'S TOO LATE.
Do you want to improve your Google Ads performance? Save money and protect your ads from fraud with ClickCease. 
Over 90% of all Google Ads campaigns lose money to click fraud. Improve your conversions, win more customers and beat your competitors with a free ClickCease click fraud audit.
Find out more about click fraud in our guide.
The post Improve Your Marketing with Power Words!