The Supermetrics Team Portal forms an integral part of the Supermetrics platform.
You can manage your license and connect data sources. You can also set up data transfers. Additionally, you can monitor the performance of your queries.
We're redesigning the interface to the Team Portal to improve user experience and make it more accessible for future updates.
We are not changing the functionality that you know and love.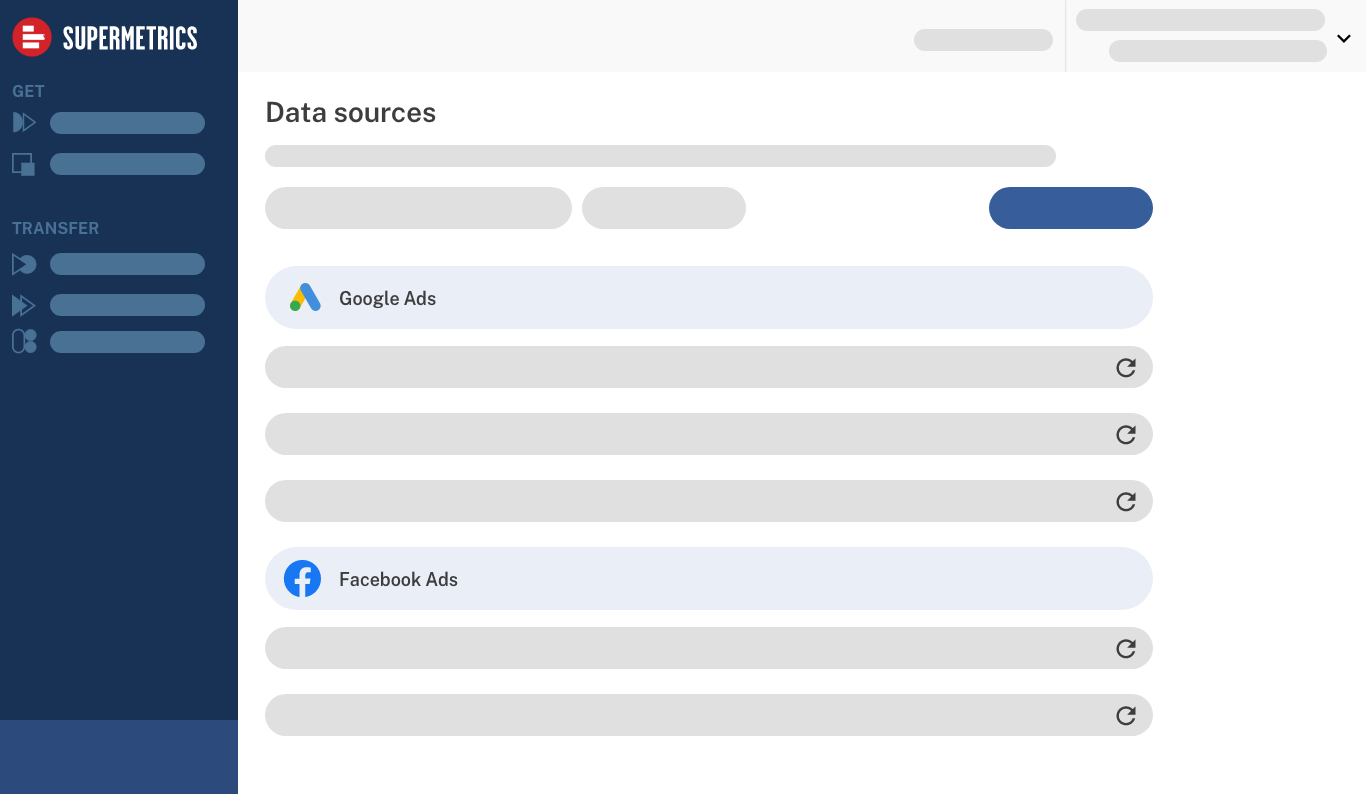 What's changing?

The functionality of Team Portal is unchanged, but the way we present information is changing.
The navigation to the core functionality of Supermetrics has been moved to the left side of the screen and into an easily accessible sidebar. The new navigation was divided into three categories: get data, transfer data and accounts and licences.
Get data

The grouping "Get Data" includes all information related to fetching data or connecting with data sources.
It allows you to quickly access a list of all connected data sources. It will be able to display all Supermetrics data source connectors in the future. It makes it easier for users to access the 'Query Manager' by including it in the sidebar navigation.
Transfer data

If "Get Data" is about extracting data from data sources, "Transfer Data" is about moving that data to a storage or destination.
This section provides access to the Supermetrics Data Destination Configuration Wizard, which is essential for setting up integrations with our data warehouses or cloud storage solutions.
You can also access the data transfer configuration view. This allows users to create and edit data transfers to cloud storage platforms or data warehouses.
The transfer monitoring view is also available in the 'Transfer Data" group. This view allows you to see each transfer's status from the past 14 days, sorted by destination and data source.
These items are primarily for Supermetrics users who transfer data to our cloud storage or data warehouses. Each platform handles transfers to Google Sheets and Google Data Studio.
Licenses and ccounts
You can now access your account and license management in two places: the bottom left-hand corner or top right-hand corner. This is similar to a dropdown menu.
It can still manage licenses, users and teams, billing history and platform usage.
What's next?

Sidebar navigation has been updated to improve user experience and allow you to add new functionality as needed.
We will introduce a new item grouping, 'Tune Data', in the early 2022.
Tune Data will contain tools that we are developing to help you transform and combine data, enabling data-driven businesses to use them in more sophisticated ways.
We will also be developing tools that enable users to create their own data source connectors within minutes.
We are determined to continue adding functionality to Supermetrics Team Portal in order to offer the tools that users require to improve their data journey.
If you are unfamiliar with the Supermetrics Team Portal, log in and have a look around.
Keep checking back for more updates


Move your marketing data to your analytics and reporting platforms to turn your data into opportunities