Google updates its algorithms and processes regularly, both for the front end search engine as well as the bank end mechanics. This can lead to confusion for marketers as it means that the goalposts can change frequently.
Google Ads has search modifiers that you may already know about. These keyword modifiers allow advertisers to control how their ads are activated, allowing certain search terms to be blocked and others to be triggered.
Google began combining elements from Broad Match Modifiers into its phrase match modifiers in February 2021. Today, broad match modifiers (BMM) are integrated into the phrase match.
All this sounds a little technical. Let's have a look at the actual functions of these elements.
Broad match is what?

Broad match is the default when you type your keywords into Google Ads. This means that Google can deliver your ads for very broad searches if you search for a term.
If you bid on "Black dress", you might also see your ad for "LBD", or "Going out dress" (or "stylish woman's outfit"). Broad match can deliver ads related to your keyword(s).
Broad match keywords can also be used for searches that include misspellings, synonyms, or other variations of the original search terms. This can be acceptable for some businesses.
You might be able to have more control over the way your ads are triggered if your ads don't appear for too broad search terms or non-relevant searches.
This is where broad match modifiers and phrase match options come in to play.
What is a phrase match?

Phrase match is a way to get results that are close to the original Google search query. Your keywords will only be triggered by searches that include the whole phrase. However, you can also include other keywords.
For example, if you search for "Black dress" as a keyword phrase, searches like "Little black dress", black dress for cocktail party or "summery Black dress" can trigger your search.
The result will not be delivered if the order or punctuation of keywords is changed.
So "Dress in black" and any derivatives of it will not be shown. Search terms such as "Black Friday sale dress", or "summer dress black" will not trigger if the phrase match is used in this instance.
What was broad match modifier, (BMM),?

Since July 2021, the actual broad match modifier (BMM), has been removed by Google. It's no longer part of the phrase matching, but you can change how keywords are delivered using the negative keyword-match.
Broad match modifiers were originally intended to allow you to target wider searches with the same keyword. It wouldn't return results for non-specific search terms.
For example, "Black Dress" could produce results like "Black Friday Sale Dress", but not "LBD On Sale".
This modifier works in a similar manner to broad match and has therefore been removed.
Currently, you can allow broad match keywords to do all the heavy lifting for general search terms.
To target specific searches, you can use phrase match. To stop ads from being served for irrelevant searches, you should also use negative keywords.
What are the benefits of match modifiers?

There is an exact match as well as broad match (broad modifiers), phrase match and negative keywords. Exact match, as you might guess, means that any search must match exactly the specified keyword(s).
These modifiers can be added to your Google Ads campaigns at the time of setting them up or later.
Match modifiers for dding with new campaigns
You'll find some helpful tips on match modifiers under the keyword input section when you first set up a campaign.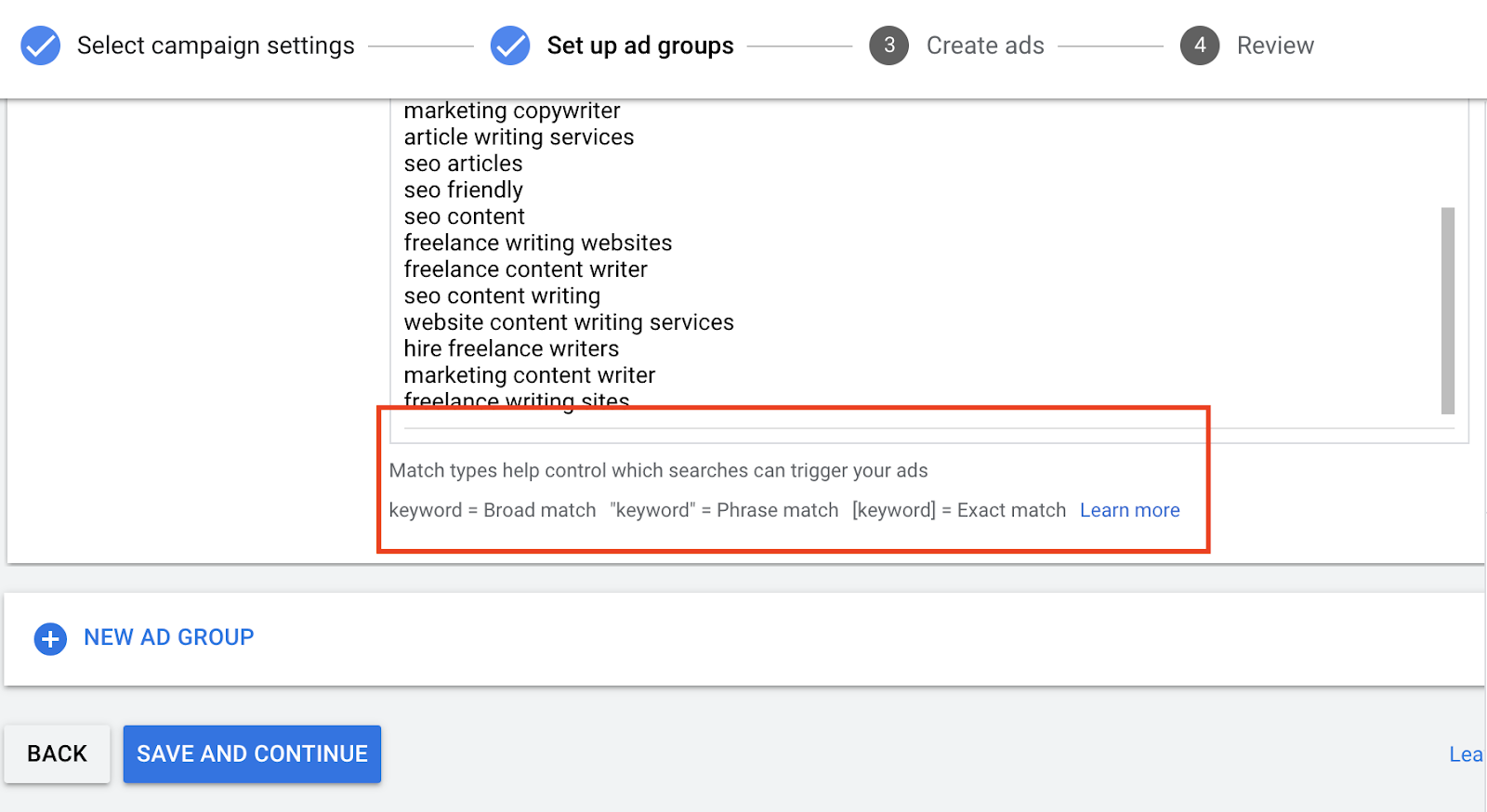 You can see that the default keyword for all keywords is broad. Modifiers are needed to change the match.
You will need quotation marks to match keywords.
Square brackets are required to match keywords exactly: [keyword]
You can also add negative keywords to this stage by using the minus symbol: "-keyword".
The negative keyword match type can be used with exact match or phrase match. You can also add the minus to your match type modifier.
Example: -[negative keywords] will ensure your ad doesn't appear in any negative keyword search.
Modifiers for existing campaigns that ad dding matches
You can edit keywords if you have existing campaigns that need to be modified with negative, exact, or phrase match modifiers.
Just search for the campaign you want to edit in Google Ads.
After clicking the campaign, you will see a link in the left-hand menu column that allows you to search for keywords. This will take you directly to your keyword lists.
Here you can add your keyword modifiers by using the indicated annotations.
What if I already have BMM keywords?

Don't panic if you have BMM keywords already in your Google Ads and are suddenly wondering what happened to them.
Lists that contain the old broad modifier keywords will continue to work as before.
Google Ads makes it easy to convert BMM keywords to current keyword modifiers.
Navigate to your campaigns and click on "Search Keywords". Click on editNavigate to open the drop-down menu for 'Change Match Types. Scroll down to the section titled 'Change Broad Match Modifier Keywords.
This will display all of the BMM keywords that you have. Then, you can choose to make the changes to your BMM keyword list and make them a 'broad match' (exact match), 'phrase match' (phrase match), or 'exact match".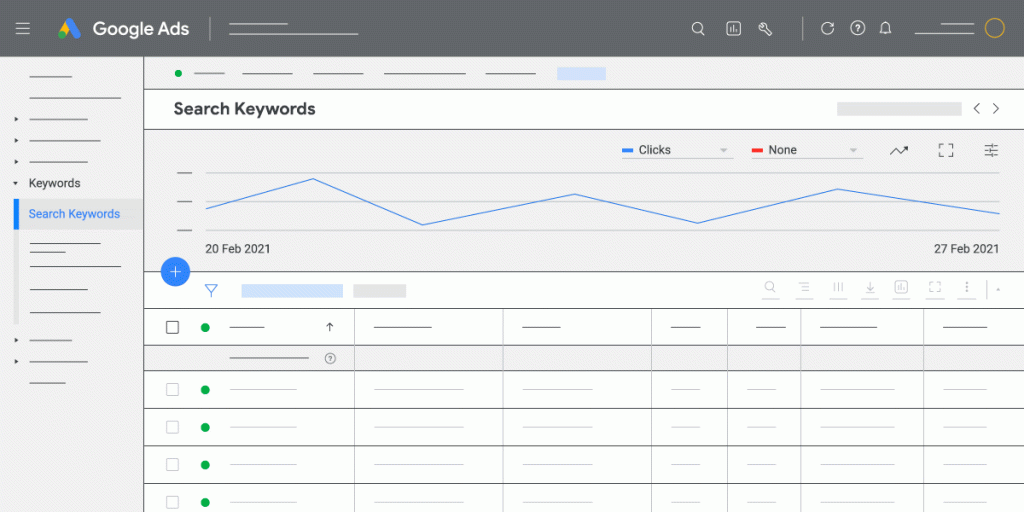 TL;DR?

Google has removed broad match modifiers by changing the match type modifiers. However, elements from BMM have been incorporated into other match type modifiers.
Broad match will provide relevant and related search terms as a standard.
If you want to target keywords in a more precise manner, however, you will need to use a combination of negative and exact keywords.
Make your search more targeted

These keyword match types are a great tool for digital marketers who work hands-on. Particularly for niche-specific marketers.
ClickCease strongly discourages the use of negative search terms. We also recommend that you monitor your search results frequently. Google Ads is an excellent advertising tool. We'd even go as far to say that Google Ads is an indispensable tool.
One of the biggest problems with Google Ads and any other online advertising tool is the possibility of being exposed to bots, fake visitors and other types invalid traffic. It has been shown that 1 out of 4 clicks from all Google Ads campaigns are not generated by genuine sources.
These fake clicks, collectively known as click fraud are believed to be responsible for a loss of $35 billion annually in digital marketing.
Learn more about click fraud in this guide.
ClickCease makes it easy to block malicious clickers, bots and click farms from clicking your ads.
We are the industry's leading click fraud prevention software and save our clients thousands per month on wasted clicks.
Make sure you are targeting your ads correctly using search modifiers if you run Google Ads campaigns. Block click fraud with the best choice in click protection.
Take our 7-day trial to get a free audit.
The post Phrase Match and Broad Match Modifier: What's Changed?
Did you miss our previous article…
http://www.affiliatemarketingbuzz.com/everything-you-ever-wanted-to-know-about-customer-acquisition/