Are you bouncing on your ads That's not what you want…
The bounce rate is something you've likely seen in Google Ads or online guides to website promotion. What exactly is the bounce ratio?
What is the difference between a good bounce rate and a poor one? What can you do to increase it?
What is a bounce rate?

This is when a visitor visits a website or social media profile, but clicks away from the page without taking any action.
This can be a page view or a page visit.
Visitors click on your page, click back, and bounce away.
This is something you've probably done before with websites. Perhaps they were slow to load or looked terrible or weren't what your expectations.
This is simply a bounce rate.
There is more to bounce rates that meets the eye.
What causes a "bounce"?

You want visitors to stay on your website long enough to complete an action.
You might ask them to book an appointment, download a resource, or purchase one of your products. They might click on your link, then click again to complete the action.
Below I briefly touched on some of the factors that could contribute to high bounce rates. These are the factors to consider if you see a lot of bounce traffic.
1. Website slow

Online patience can be very short. If a site takes longer than a few seconds to load, there are plenty of sites that will load faster.
High bounce rates are most often caused by a slow loading website.
You can optimize your website's load speed by making it a priority.
Some factors that could cause slow loading speed are:
Large imagesUncompressed embedded videoCheap Web HostingSite design or architecture (i.e. the code that runs your website)Multiple extensions and pluginsLots ads or other externally loaded materialRedirects or obsolete certificates (e.g. expired https certificates).
You can check your load speed with tools – but it is strongly recommended that you perform a site diagnostic.
Optimized landing pages can help you solve any speed issues you may have with your site. This brings us to the next topic…
2. Landing pages should not be used (or of poor quality).

Visitors click on your ads to go directly to the product or service that interests them. This is not your normal home page.
A landing page is the best way to keep your customers coming back to your site.
You can create landing pages that are specific to your search terms or campaign.
If you are selling bicycles and have a campaign called "kid's bikes to Christmas", your visitor will click directly into a landing page about kids bikes. They won't want to filter out adult bicycles, ebikes, and scooters.
A landing page is not a problem. A poorly designed, confusing, or cluttered landing page can be just as damaging as one that is not there at all.
Many sites allow you to create simple, optimised landing pages such as Unbounce and Leadpages.
You can access landing page builders on many content management websites like WordPress, Shopify, and Wix. These tools can be used to create landing pages that target specific searches or highlight your product line.
3. Your ad content vs your product

Searchers take seconds to scan the results and click on them. The ad copy must grab the searcher's attention and encourage them to click.
Your website must deliver.
This is where your landing page will perform its work. There is a strong connection between your optimized ad copy and the landing page that the visitor visits.
It's also about whether the product they are looking for is actually what it is.
Sometimes, ad copy is so vague that it's difficult to know if it will deliver the results we desire. We click and it turns out that this is not what we expected.
This is how you get around it:
Focus on narrow, well-defined search terms and not broad keywords. Create descriptive content that tells people what to expect. Use a landing page that matches your ad.
4. Poor user experience

Many of the problems mentioned above are tied to user experience. It has a huge impact on your bounce rate, however.
Simply put, people will leave a web site that is too difficult or confusing to use.
Think about your own experience with poor websites, and you will be able understand. You've likely encountered these poor website experiences before.
Buttons not workingHard to locate shopping basketConfusing sub-menusComplicated terminology (or fancy words for simple things)Embedded videos slowing down the pagePage elements hidden by badly placed buttons or imagesMultiple pop-upsUn-intuitive page layoutNon-functioning linksChunks of text or overly complex language in website copyGlitchy websiteNo 'secure' certificate (https missing)
This list is not exhaustive. If one of these factors makes it difficult for visitors to use your website they will leave and go to the next guy.
5. Poor targeting of ads

To catch more customers, it can be tempting to make your advertising reach as far as possible. Broad targeting can lead to more casual users or customers who are not relevant.
This results in higher bounce rates and lower conversion chances.
You can narrow down your advertising targeting to reach people who are truly interested by your ads.
This will allow you to save a lot of money on clicks and impressions.
You can create optimised campaigns to target specific segments of your customer journey.
Keep your ads as targeted as possible by using your demographics and geo-locations.
Optimizing your ad targeting is a part of the larger marketing picture. It's worth looking at if you want to lower your bounce rate.
Learn more about optimizing your ad campaigns.
6. Trafficking in non-humans

Your website should be optimized for humans. What about clicks from non-human visitors?
Data shows that one in four to one in five clicks for paid ads are from non-genuine sources. These clicks, also known as invalid traffic, have a high likelihood to bounce.
These clicks are non-human and can be derived from:
Web scrapers and data harvestersBots are used to commit organized fraud (adfraud) Click-jacking apps, or software extensions (known under malware)
These automated clicks can be benign, but they are often just bots collecting data.
However, there's also a billion-dollar industry that targets paid advertising to steal advertisers' money.
Click fraud is also known as ad fraud. This refers to the act of clicking on paid ads in order to steal the budget or drain the funds. This practice is increasing for many reasons, but the bottom line is that fraudsters can make easy money by clicking on paid ads.
While Google and other large ad platforms have procedures in place to prevent fraud clicks from being made, the truth is that bots still generate a lot of clicks.
Learn more about click fraud in this guide.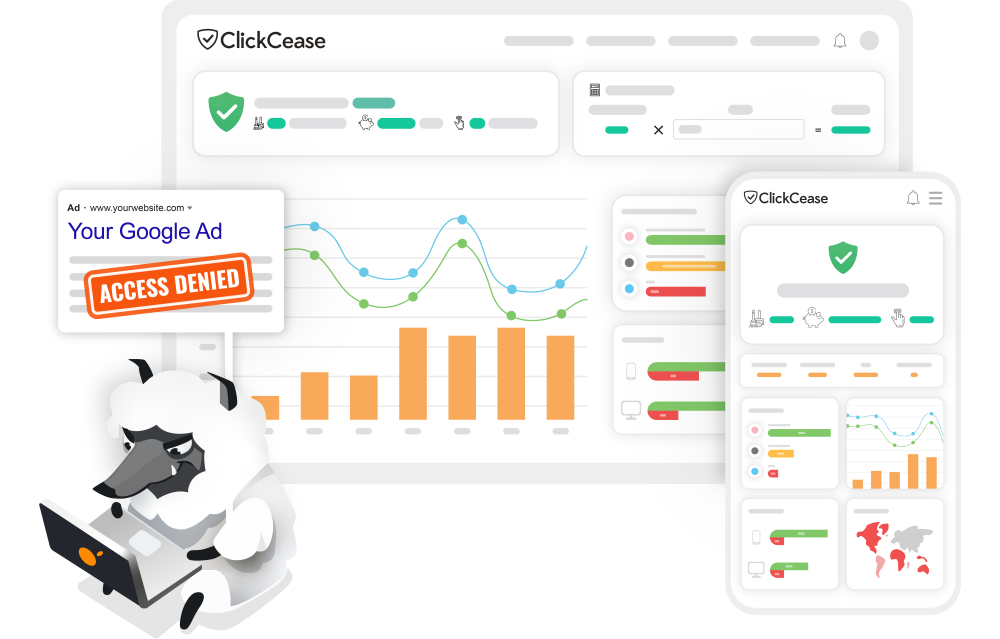 What is a good bounce?

Google Ads has a low bounce rate, which is acceptable in most industries. It can be between 50 and 55%. You should look closely at your ads if you are regularly experiencing bounce rates in the 70's and above.
A bounce rate of 25-45% is ideal for targeted ads that are optimised.
You can expect to see a few pages or brief views as site visitors often browse or research.
You won't be able to reduce your bounce rate to 0% unless you have an in-demand product or are a marketing genius.
Time on site

It's one thing to understand the bounce rate, but it's only part of a larger picture.
Another important factor is the amount of time that a visitor spends on your site. This is also known as the'session length'.
What is the ideal session length?
…. is the answer to all digital marketing questions.
It depends.
What is the average time it takes for your content to be viewed? Is there a way to fill in a form? Are you asking people to visit other pages in order to interact with your site?
A good session length is between 2 and 3 minutes. This means that even though your page is only one, it is being viewed and interacted upon.
This could indicate a problem if your session length is less than 30 seconds. This is especially true if you have a high bounce rate.
Page views

Bounce rate is a session view/exit ratio. However, you can see the average pages viewed per session from your Analytics dashboard.
A page view that is deemed 'good' might be dependent on many factors, such as the number of pages you expect customers to view before they take any action.
Page views average between 1.4 and 4 per session.
You might want to look at your multi-page website if you are seeing less than 1.4 pageviews each session.
Understanding visitor behaviour

A variety of website analysis tools can be used to identify traffic issues and provide insight into website performance.
You have probably already set up Google Analytics. If not, you should.
Google Analytics is completely free and provides valuable insight such as visitor locations, bounce rates, pages visited and bounce rate.
Integrating Google's tools into CMS software such as Shopify or WordPress is easy. You will usually only need to install the Google Site Kit App.
You can also use these other tools to analyze visitor behavior:
Mixpanel FoxMetricsMatomo
These reports offer additional insight into ad clicks, an overview of factors such as your average bounce rate and activity on site pages. They also provide insight into user engagement.
These visitor behavior analysis tools are not essential but they provide some very useful data.
Traffic that is not valid

Many ad campaigns have a large percentage of bounce rates due to non-genuine clicks. These clicks are often called invalid traffic (IVT), click fraud, or ad fraud. The bottom line is that you're paying for clicks with zero conversion potential.
You will most likely see a significant drop in bounce rates across all your campaigns if you block invalid traffic.
ClickCease is the industry leader in click fraud prevention. It offers real-time fraud blocking and machine learning that adapts according to your industry and campaigns.
Our software blocks:
Bots and web scrapersClick farmVPNs Repetitive ClicksFake Account Impressions
ClickCease is a tool that blocks malicious or non-genuine clicks from Google Ads, Facebook Ads, and Bing/Microsoft Ad Campaigns.
Additionally, you'll get valuable insight into the behaviour of visitors to your paid ads.
ClickCease doesn't provide a visitor analysis tool but our fraud blocking algorithms can be used to analyze various factors that affect site engagement.
ClickCease allows you to view click recordings and scrolling activity of visitors who clicked on your ads. You can also view which keywords attract the most fraud and where your clicks are coming from.
You can analyse customer behaviour and track where they leave your site, even if you are clicking on genuine human clicks. ClickCease is free to try and view your ad traffic data.
The post What is a Bounce Rate? The Causes & The Fix
Always check our latest articles at…
http://www.affiliatemarketingbuzz.com//category/sem