The future of work clearly points to digital transformation, with video at its forefront. It's been a mystery to us how technology would change the future work. But with the sudden need to change caused by the global pandemic, whole industries moved to remote workers and adopted video as their primary form of communication.
Video calling technology was a science-fiction invention in the past. Video screens have been prominently featured in every Star Trek episode, from Star Trek to Jetsons.
Recorded videos don't get the Hollywood treatment as they did in Hollywood, but they are primed to revolutionize the way we work.
One thing is certain: Video plays a crucial role in the future work environment.
The future of work is often discussed in terms that feel most sci-fi: automation, artificial intelligence, and robots. While these things are becoming more common, they're still far from becoming a reality.
On the other hand, video is undoubtedly what our immediate future of employment looks like.
Contents1. What the Future of Work Looks like1.2 More people will work remotely1.3 More companies will go 'Digital by Default'1.3 More employees will be distributed geographically1.5 Health and safety measures will change how offices operate1.5 Security and privacy will be a priority for both employees and employers.
The Future of Work

The way we work is constantly changing as more businesses go digital, and pandemic-era limitations have forced innovation. One thing is certain: the future of work will include technology such as video.
To continue meeting customers' needs and meet their digitization requirements, organizations are increasingly digitizing their workforce and processes. Due to the global pandemic, customers want to be able communicate and consume digitally. It is imperative that customers have quick and easy access to products and services. This demand drove video usage to explode in 2020. It was used for live Zoom calls, virtual events experiences and asynchronous video messaging.
Although it is not certain what will happen next, there are some likely outcomes that experts can agree on.
1. More people will work remotely

Remote work is steadily growing. In fact, it has quadrupled over the past ten years. It just keeps growing.
The number of remote workers is expected to nearly double in the next five-years compared to before COVID-19. Remote work is not only common, but also very popular. More than 66% of sales professionals say their team will work remotely or part-time in future. Flexible schedules, working from home, and the freedom to travel are some of the top benefits for remote workers.
It's no surprise that 98% of respondents to Buffer's 2020 State of Remote Work said they would like to work remotely for at least part of their career.


Buffer's 2020 State of Remote Work Report.
This steady growth was accelerated by the COVID-19 pandemic, when large numbers of people began to work from home in response to social and physical distancing guidelines.
Many people will continue working remotely even after the pandemic is over. Companies will have to invest in systems, training, and tools to enable remote workers.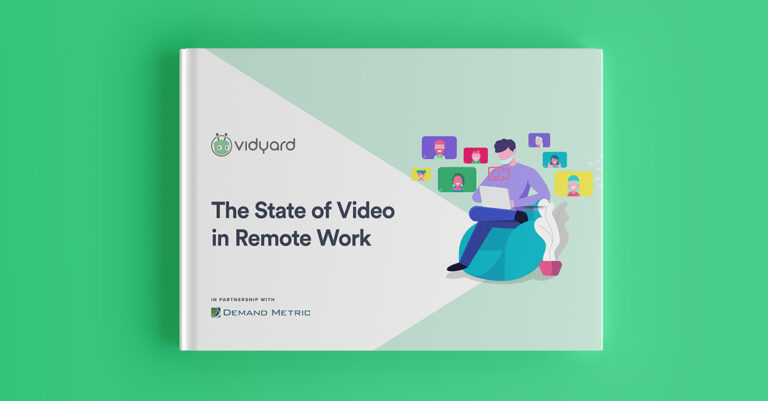 The State of Remote Work Video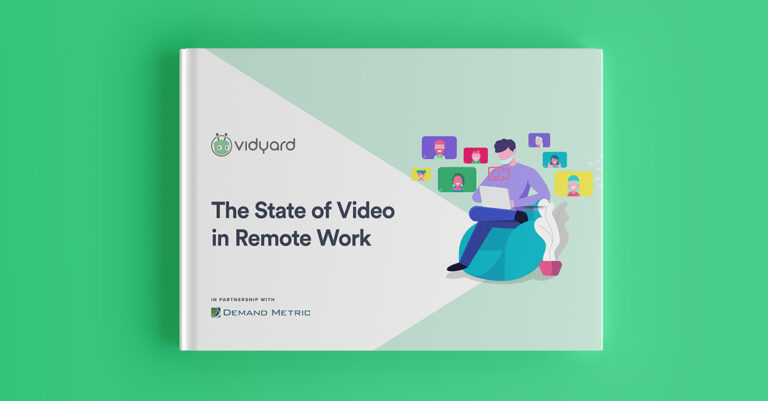 Get the Report to gain valuable insight into businesses using synchronous or asynchronous video while working remotely.
2. More companies will go 'digital by default'

Tobias Lutke, Shopify CEO, announced that the company would shift to a "digital-by-default" model on May 21, 2020.
This means that the majority of the company's 5,000 plus employees will be working remotely. The existing office spaces will be reconfigured and transformed into recruiting hubs.
Shopify is now a digital by default company. Our offices will remain closed until 2021 to allow us to rework them in this new reality. After that, many will work remotely. The age of office centricity is gone.
— Tobi Lutke (@tobi) May 21, 2020
This announcement came on the heels tech companies Square and Twitter that announced they would allow certain employees to work remotely permanently even after any pandemic restrictions have been lifted.
As the global situation changes and pandemic forces make permanent changes, it is likely that other organizations will also follow their lead.
3. Greater Geographic Distribution of Employees

Workers won't feel as attached to one place because of the increased number of remote employees and digital default organizations.
Companies will no longer be limited to their immediate surroundings, but have access to a larger talent pool. Existing employees might consider moving (especially if they live in expensive urban areas).
These shifts may result in a greater geographical distribution of employees.
Many organizations will shift from 9-5 "office hours" to core hours, so that employees have some overlap with their coworkers. Others might be completely asynchronous and have highly flexible work hours.
Organizations will be motivated to search for efficient and effective asynchronous communication options such as chat platforms (think Slack), cloud collaboration (think G Suite), and asynchronous recorded videos (think Vidyard).
Sign up free to create video messages
4. The way offices operate will be affected by safety and health measures

Desks are spaced. Modifications to amenities. Medical testing on the job. There are many ways to reduce the risk of contamination or infection in an office environment.
These shifts will impact the way offices look, and function.
This could include changes to meeting rooms, desk layouts and common spaces. It would also impact the way coworkers communicate and collaborate. They will need to look for new ways to get work done and tech solutions that enable them.
5. Both employees and organizations will prioritize security and privacy.

As more collaboration and communication happens digitally, employees and organizations will put more emphasis on privacy and security.
Zoom and other synchronous video calling platforms have made updates based upon consumer demand.
Going forward, it is expected that technology solutions will be secure.
This is not all. There are many other changes that could have an enormous impact on the future work environment.
The State of Video Remote Work [Infographic]

The future of work is already in motion, particularly with the COVID-19 pandemic requiring shifts.
Demand Metric was our partner to examine how organizations used video during the pandemic.
Below is an infographic that shares some of our findings. Check out the complete report to see all our insights.
Get a PDF version.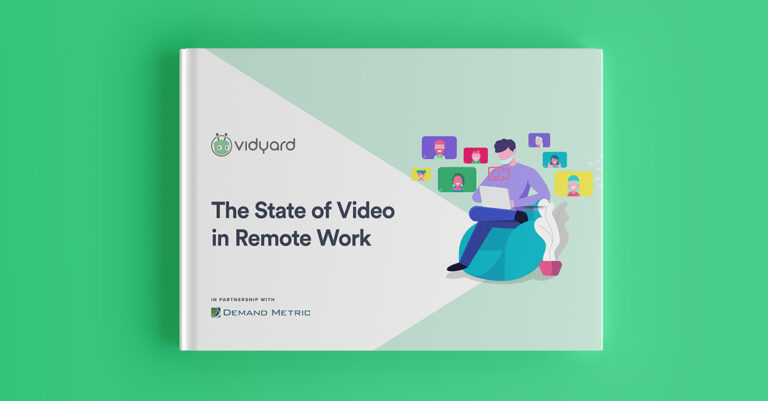 The State of Remote Work Video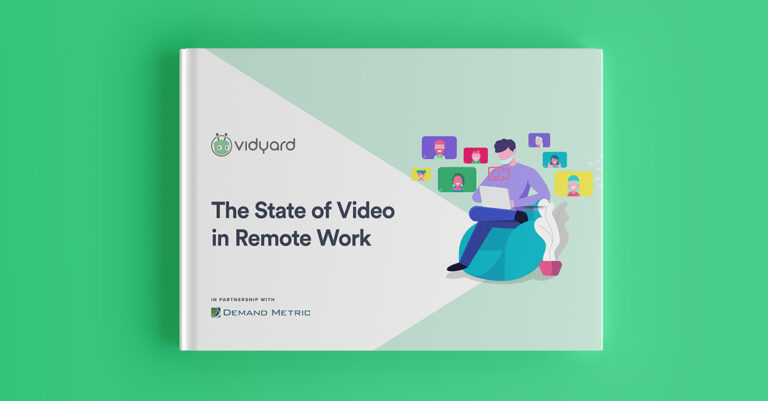 Get the Report to gain valuable insight into businesses using synchronous or asynchronous video while working remotely.
Six Reasons Recorded video has a crucial role to play in the future of work

Are you curious about how technology will impact the future of work? It will allow organizations to remain effective in all of the shifts they might experience.
Companies will need to invest in tech, tools and training to prepare for the new world of work.
There is no one tool or piece that can solve all problems. Therefore, it's crucial that both leaders and contributors have a technology stack that allows them to communicate as they need.
A tech stack that is designed for the future should include a cloud-based collaboration tool and a chat platform.
(Pro tip: Zoom fatigue can be avoided by balancing video-based communication between synchronous and unsynchronous tools.
Sign up free to create video messages
Why is recorded, asynchronous audio such an excellent fit for the future work environment? It has a few key characteristics that make it the ideal tech solution for many needs.
1. It's engaging

Video is the format that people want, so it's not surprising that it's everywhere, including on social networks, websites, and schools.
It is popular in personal communication, B2C advertisement, and B2B communication (across sales, marketing, and internal communications).
Video is a very engaging format that people love.
It is a smart way to communicate within and outside your company.
2. It's Timely

Recorded video can be done quickly without requiring immediate attention or a time limit.
Instead of searching for an opening in each person's calendars, which can be difficult when your team works across time zones, you can record a video whenever you have the time and then send it to them.
3. It is efficient

Video is quick and simple to create. It's also fast and easy to consume.
You can record a video, or watch a video that a colleague has shared with you. It doesn't matter if it is a workable option.
Video is not only flexible but also extremely time-saving. Especially if you use speed controls (e.g. 1.5x) to play back video at a faster rate.
You can also save a lot of typing by using video. Recording a quick video is almost always faster than sharing the same information via text-based emails.
4. It's clear

Video allows you to quickly and easily communicate your message in your own words without the need for typing.
You can also use it to communicate important non-verbal cues, such as tone and body language, that are not possible with text-based communication. You can share your screen with visuals depending on the message. By providing as much context as possible, both help to ensure that you are understood.
Video isn't only a way to show what you mean.
It can also be used to communicate your message and make it stick. Over 70% of sales professionals report that video emails perform better than text-based emails.
5. It's personal

Recorded Video is one option for digital communication that allows viewers to see you face and hear your voice. (Video calls are another).
This allows you to be more personal with your message. This allows you to communicate your message with personality, which can help build relationships with prospects and colleagues.
6. It's secure

Many video platforms that are designed for businesses offer video security options. This makes it simple to make sure your video is only seen and viewed by the right people.
You can choose from password protection, IP whitelisting or single sign-on (SSO) features.
This is particularly important for those who use video to communicate internally, since videos can contain confidential or sensitive information.
Remote work is undoubtedly dependent on video. This is a major part of the future vision of work.
Sign up free to create video messages
This article was first published June 19, 2020. This post was last updated December 1, 2021.
The Future of Work: Why Technology is Essential